ArkInventory is an amazing plugin. It's auto sorting and grouping is the main reason I always come back to it.
The default look however isn't pleasant. I've worked on my layout for some time and figured I'd share that with you.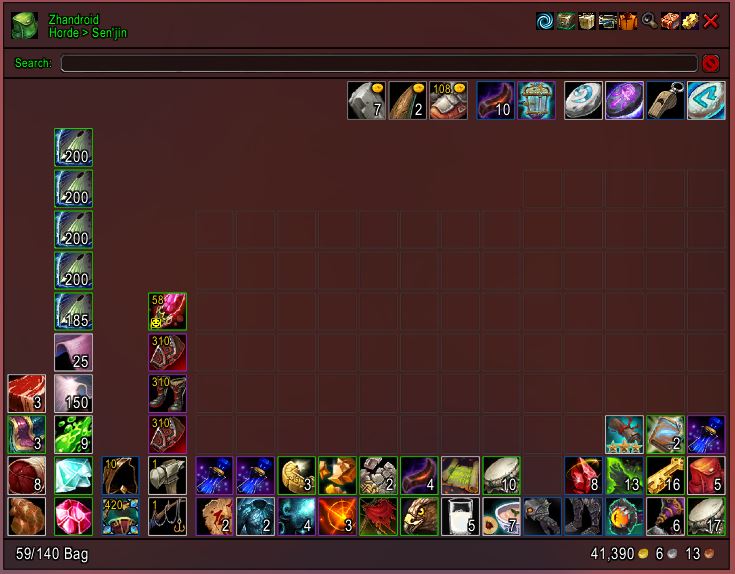 You can import the following into ArkInventory and get a much better looking window. It fits great with you ElvUI users as well!
^1^T^Sdesign^T^Sslot^T^Sborder^T^Soffset^N3^Sstyle^SArkInventory~Square~1^Ssize^N16^t^Sempty^T^Sicon^b^Salpha^N0^t^Snew^T^Senable^B^t^Sitemlevel^T^Sshow^B^Sfont^T^Sheight^N12^t^t^Sdata^T^N1^T^Scolour^T^Sa^N0^t^t^N0^T^Scolour^T^Sa^N0^t^t^N27^T^Scolour^T^Sa^N0^t^t^N10^T^Scolour^T^Sa^N0^t^t^N6^T^Scolour^T^Sa^N0^t^t^t^t^Swindow^T^Spad^N2^Sbackground^T^Scolour^T^Sa^N0.632^Sr^N0.039^Sg^N0.039^Sb^N0.039^t^t^Sborder^T^Soffset^N3^Sstyle^SArkInventory~Square~1^Ssize^N16^Scolour^T^Sr^N0^Sg^N0^Sb^N0^t^t^Swidth^N17^t^Schanger^T^Shide^B^t^Sname^SDefault^Scategory^T^S1!104^N4^S1!503^N5^S1!111^N4^S1!411^N7^S1!412^N5^S1!107^N4^S1!108^N4^S1!416^N3^S1!513^N5^S1!113^N4^S1!102^N4^S1!434^N5^S1!502^N5^S1!512^N5^S1!506^N5^S1!106^N4^S1!504^N5^S1!427^N5^S1!505^N5^S1!110^N4^S1!109^N4^S1!402^N8^S1!514^N5^S1!501^N5^S1!103^N4^S1!105^N4^S1!116^N4^S1!101^N4^S1!115^N4^S1!414^N2^S1!112^N4^t^Sused^SY^Stitle^T^Sfont^T^Sheight^N15^t^Sscale^N0.9^t^Sbar^T^Sborder^T^Soffset^N3^Sstyle^SNone^Scolour^T^Sb^N0.988^Sg^N0.988^Sr^N0.988^t^Ssize^N16^t^Spad^T^Sexternal^N6^Sinternal^N2^t^Sbackground^T^Scolour^T^Sa^N0^t^t^t^t^Scat^T^t^Ssort^T^t^t^^